FREQUENTLY ASKED QUESTIONS
What is a sampler?
---
A sampler is a digital audio instrument similar to a synthesizer. It uses small pieces of recorded audio to create new sounds through complex processing.
---
Do you only use hardware samplers?
---
I use both hardware and software samplers?
---
What software DAW (Digital Audio Workstation) do you use?
---
Ableton Live 11
---
Do you use software synthesizers?
---
None worth noting but I do use Max For Live. I don't think that counts though. Well maybe it does.
---
Why don't you like software synthesizers?
---
Whoa slow down there! I like them. Let's not draw any unfounded conclusions now.
---
Well what software synthesizers do you like then?
---
DIN Is Noise. I also like Kyma
---
Why do you avoid compression in your recordings?
---
I personally am very sensitive to the psychoacoustic behavior of excessive compression on music. Because of this my overall preference is to use as little as possible if any. I find recordings sound much better that way.
---
Do you produce for other artists?
---
No.
---
Do you collaborate with other artists?
---
No.
---
What type of music do you make?
---
I make instrumental sample based music centred around the experimental music genre.
---
What's your favorite sampler?
---
The Ensoniq EPS16+ circa 1991.
---
Where do you live?
---
Toronto | Ontario, Canada | North America | Planet Earth for the moment.
---
Who are you?
---
Yohance Marshall. I'm a recording artist and educator who uses digital samplers to make music.
---
Are your sampler manuals written PDF or video manuals?
---
They're interactive video manuals. With a fully intergrated disscussion board where you can ask questions and dialouge with myself along with the other manual users.
---
Do I have to pay for each manual update?
---
All updates are completely free. As each update is added you will get immediate access to them. It's a one time investment.
---
I only knew you from YouTube! I didn't know about this side your practice. Do you value gear over music?
---
Music is always first. I'm not a gear head and have very little expectations from musical equipment on a whole.
---
Are you aware of how many people love what you do?
---
Yes!!!!!!!!!!! It's what I pay attention to!
---
You don't seem to like helping people! Are you aware of how many people think you're a stuck up Elitist?
---
Yes! It's what I pay the least attention to! It is difficult though so everytime I think about it I refer to the question after this one.
---
I'm trying to buy your manuals but I'm unable to complete the payment process. What's going on?
---
While I'm not sure what the real reason might be. I know that using a desktop/laptop seems to solve the problem. If I were to guess I'd say that it has something to do with having a secure connection.
---
Are your invoices/receipts emailed digitally or mailed to my physical address?
---
Both depending on which product you order. For physical products, an invoice/receipt will be sent to you along with the product. For digital items like the online manuals, you'll be sent a digital receipt only.
---
Can I download episodes of The Samplers Podcast?
---
Yes. Many lisnteners enjoy a particular episode of The Samplers Podcast so much that they want to have it with them offline. Each episode of The Samplers Podcast can be individually downloaded right from the podcast player for $1.00
---
Do you offer one-to-one music education or consulting?
---
No. Any insight into music education and learning is offered through the manuals and NTSC/PAL subscrpbtion videos available here on the website.
---
I'm looking at buying a vintage sampler! Can you tell me if it's worth buying?
---
The best advice that I could give in this situation is the following:

Any sampler that you concider brining into your work enviroment in gerneral should fulfill the requeirments that you expect of it. If you're not comfortable doing electrical maintenance; it's best if it's in near mint condition when purchaced. Be completely realistic about the pros and cons of working with vintage samplers. Before You Buy A Vintage Sampler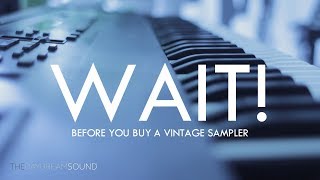 ---
What is NTSC/PAL?
---
NTSC/PAL is the video subscription service containing a growing library music related videos. The nature of the videos range from vintage samplers all the way to livestreams vlogs and music business.
---
But I want you to tell me what sampler to buy so I can feel more comfortable about my choices. Can't you just tell me what to do?
---
Nope. That would fall under one-to-one counselling.
---
How can I access your manuals? Can I download them?
---
Once you've purcheased, the manuals are accessible anytime via an online internet connection only. You can access them with any web browser and any internet enabled computer or mobile device.
---
I'm logged into The Daydream Sound website but I can't see the manual courses that I bought. Where are they?
---
The log in page on The Daydream Sound website is for the website products like NTSC/PAL, the B(L)og and the General Store. To get to the manuals you have to log into The Daydream Sound manual learning portal at https://thedaydreamsound.thinkific.com/ Once in the learning portal you'll be able to see and use all of the manuals that you're currently enorlled in.
---
I have an EPS Classic or EPS16+. Would I benefit from the Ensoniq ASR-10 Beginners Manual help me?
---
Yes. Most definitely The Ensoniq ASR-10 Beginners Manual is applicable to the EPS Classic and the EPS16+ in both keyboard and rack versions. These 3 samplers are incredibly similar and share a large percentage of the same features. The Ensoniq ASR-10 Beginners Manual is a huge benefit to anyone with these samplers.
---
I'm interested in your manuals but I'm not a "Beginner". Would your beginner manuals be of any benefit to me?
---
Most defintiely! The manuals are lovingly labelled as "Beginner" manuals becuase of their ability to be friendly to anyone at any level of learning. From there the manuals go into advanced subject matter and applications without leaving anyone behind. In addition. One of the benefits is that even in the beginning stages of the manual there is a good deal of advanced knowlege covered. The best advice I could give is the following: "Don't be fooled by the title"
---
Can you Master my Album or Tracks?
---
Yes. If you like my style of how I treat sound recordings I can definitley master your project. You can contact me here
---
Wicked!!! Well would you be able to Mix my songs too?
---
Yes. If you like the way I balance mixes I definitely can mix your music. You can contact me here.
---
Do you Mix and Master your own music?
---
Yes.
---
I already have the manufactuers manuals for the samplers that you have in vintage manuals collection. Why do I need to buy yours?
---
The artists who invest in these manuals do so because they appreciate and resonate with the way that I explain and expand on vintage samplers. With that as the denominator I would say that if you have any of the samplers I cover and don't understand it, or are thinking about getting one and want to understand it then these manuals would be a strong option for you.
Now if you aren't familiar with me or my style approach to samplers. You can always have a look at the manual curriculum at anytime. In addition, you can have a look at the content right here on this website.
---
---